Albatro 45

from 1150 EUR per day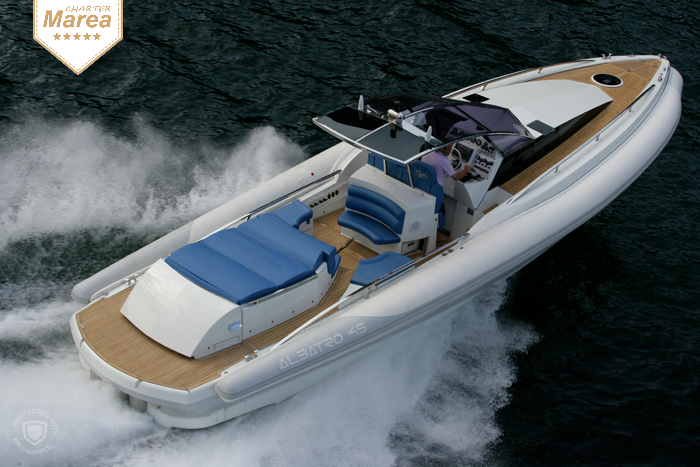 Availability calendar - click on date to book.

13.71 m.

3.90 m.

10 pax.

1400 kg.

900 l.

300 l.
Ce

50 Mph.

2 X 470 HP YANMAR ENGINE
The luxury speedboat Albatro 45
Equipment of the boat:
Stern inox stanchions
teak floor
inox ladder
taking of tide
flagpole
external shower (warm and cold water)
stern sun deck in skay
teak table with hydraulic lifting
Skay seats
external electric plain coking
skin (warm and cold water)
refrigerator
n.6 inox cleats and fairleads
inox-plexiglass t-top,horn
navigation light.
Painted instrument dashboard, complete instrumentation motor, steering wheel, compass, steering gear, radio stereo cd, Gps da 8,4, Vhf. Seats and sun deck are realized in closed cell (anti water) Bilge pump, 3 batteries, battery charger, battery switches, magneto-thermic protections, autoclave, 220v system with sockets with 2 takings. Teak deck, galvanized still anchor, galvanized chain 50 m., electric windlass, port hole, automatic/manual extinguishers, system of warm water , system of dark waters , electric inflator.
INFO PRICES AND TIME (EUR):
2 hour rental (departure by appointment)
Price: €345 / 2.580,00 KN
Includes: insurance, booking fee, skipper cost, towels and freshly sliced fruit and drinks from the offer
Fuel is not included in the price
Half-day rental runs from 10:00 am to 15:00 pm
Price: €690 /  5.170,00 KN
Includes: insurance, booking fee, skipper cost, towels and freshly sliced fruit and drinks from the offer
Fuel is not included in the price

Full day rental runs from 10:00 am to 19:00 pm
Price:€1150 / 8.620,00 KN
Includes: insurance, booking fee, skipper cost, towels and freshly sliced fruit and drinks from the offer
Fuel is not included in the price

NOTE:
* Cost of fuel is not included in mentioned prices. The vessel is rented with a full fuel tank and the end user recharges the spent fuel on the return of the vessel at the gas station INA, Zert bb, Opatija and paid directly in the INA office
* The price in EUR (EURO) is of informative character and is collected in kunas – Croatian national currency
* Boat is available only for daily base rental – no overnights on board
* We do not provide parking space for Your car during the time of the rental