Beneteau Antares 7 OB

from 270 EUR per day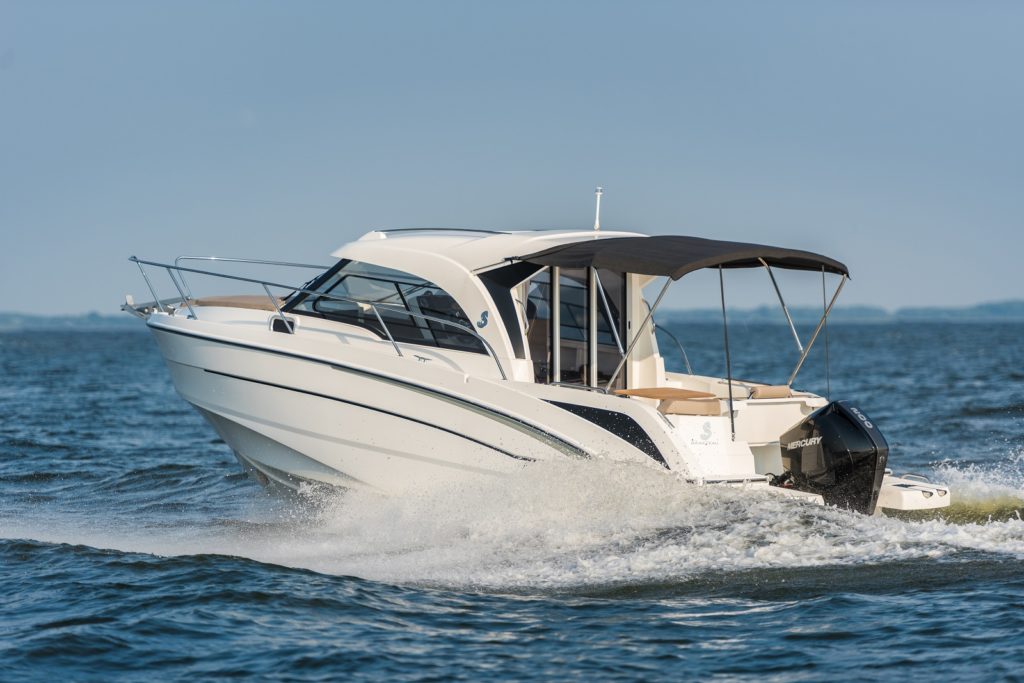 Availability calendar - click on date to book.

7.5 m.

2.5 m.

8 pax.

2500 kg.

170 l.

50 l.
C

34 Mph.

175 HP MERCURY
Beneteau Antares 7 OB is a model suitable for demanding boaters who seek style, comfort and safety. The motorboat also offers a spacious wheelhouse with a panoramic view of the sea, as well as cockpit saloon option that converts into a sun-lounger. Also, it has plenty of storage and a fitted galley space as well as separated toilete.
At sea proves to be a reliable and safe boat, great for day trips.

Skipper is obligatory if the customer/ charterer don't posses skipper license and don't know how to operate & drive the boat!
INFO (EUR) PRICES & TIME SLOTS:
Half-day rental runs from 09:00 am to 13:00 pm or from 14:00 pm to 18:00 pm
Full day rental runs from 09:00 am to 18:00 pm
DEPOZIT (in case of daily rental) = 3.700,00 kn (500 EUR)*  – obligatory if the boat is rented without our skipper on board
WEEKLY CHARTER/SEVERAL DAY CHARTER – obligatory extra costs
Boat cleaning fee*
– Per boat Benetau Antares – 370,00 kn (50,- EUR*)
Skipper*
– Per whole day – 888,00 kn (120,- EUR*)
Deposit*
– One time payment – refundable* – 11.100,00 kn (1.500,- EUR)*
Includes:  insurance, booking fee, free Wifi, route planner, GPS tracking on board
OTHER : Free Wifi included, 4G LTE unlimited ;
WEEKLY & DAILY CHARTER

01.03.-07.05.
08.05.-11.06.
12.06.-27.08.
28.08.-24.09.
25.09.-31.10.
Half day


(09.00 – 13.00h/14.00 – 18.00h)

1.440,00 kn (195,- EUR)

1.700,00 kn (230,- EUR)

2.000,00 kn (270,- EUR)

1.700,00 kn (230,- EUR)

1.440,00 kn (195,- EUR)

Whole day


(09.00 – 18.00h)

2.000,00 kn




(270 EUR)

2.330,00 kn (315,- EUR)

2.660,00 kn ( 360,- EUR)

2.330,00 kn (315,- EUR)

2.000,00 kn




(270 EUR)

Weekly **

(7 days)

11.840,00 kn




(1.600,- EUR)

13.320,00 kn (1.800,- EUR)

15.540,00 kn (2.100,- EUR)

13.320,00 kn (1.800,- EUR)

11.840,00 kn




(1.600,- EUR)
Skipper is obligatory if the customer/ charterer don't posses skipper license and don't know how to operate & drive the boat!
–  HALF DAY – 370,00 kn (50 EUR)*
–  FULL DAY –  590,00 kn (80 EUR) *
DEPOZIT = 3.700,00 kn (500 EUR)*  – obligatory if the boat is rented without our skipper on board
NOTE:
* Cost of fuel is not included in mentioned prices. The vessel is rented with a full fuel tank and the end user recharges the spent fuel on the return of the vessel at the gas station INA, Zert bb, Opatija and paid directly in the INA office
* The price in EUR (EURO) is of informative character and is collected in kunas – Croatian national currency
* Cost of skipper is not included in boat rental price and it's excluded from any discount
* Deposit is refundable if the boat returns to the base after the rental in the same condition as it was before the rental.
* Boat is available only for daily base rental & weekly rental
*  We don't provide parking space during the boat rental