Rio 7.90 Day Cruiser

from 350 EUR per day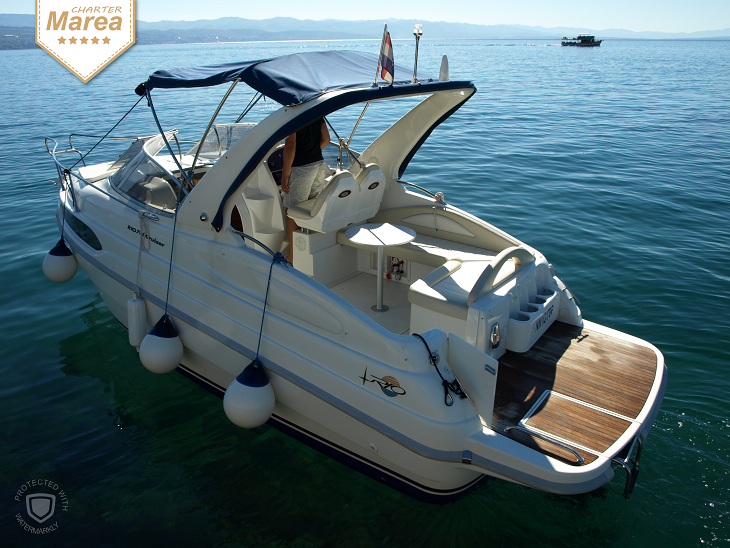 Availability calendar - click on date to book.

7.90 m.

2.62 m.

7 pax.

2130 kg.

260 l.

50 l.
B

45 Mph.

MERCRUISER 260 HP - V8
Rent a RIO 7.90 DAY CRUISER, designed by Scarani (Italy)   .
Everything onboard on the RIO 7.90 DAY CRUISER is conceived for your comfort and that of family and friends, ergonomic controls, sundecks on the bow and bathing platform, big cabin with separate bathroom, kitchen with sink, stove and built in fridge.
RIO 7.90 Day Cruiser Equipment
Cabin
3 bed-dinette converted into a double bed (for 2 persons)
Separate skipper bed (for 1 person)
(total beds for 3 persons)
Kitchen with stove and sink
Private Separate toilet with wash basin
Refrigerator
Socket CEE 220V power connector
Internet 12V closed doors with battery switch for different purposes (blower competition etc…)
Navigation
GPS GARMIN GPS-ECO INTEGRATED 721 XS
Compass
VHF radio
The indicator bar
Marine ICM 323
Technics
Bow anchor windlass
Electric bow anchor windlass
Electric winch, steel anchor; 60 mt chain stainless steel
Battery charger
Anchor, Anchor box
Deck equipment
Bathing ladder
Bathing platform in teak
Outdoor shower
Teak deck
Awning Whole camp
2 Awnings
Swimming platform
Safety
Bilge pump, electric bilge pump
Swimming platform with integrated second help motor mount retractable
Safety outboard engine MERCURY 5 HP -4 stroke with extra foot long with thrust propeller (new, 0 hours of motion) – FREE IN THE RENTAL PRICE – Without additional costs
Complete safety Equipment within 12 MI (vests 7 pax, rocket fire, etc… )
Abortion coastal 12 MI
N ° 2 batteries with separate management with independent charge
Automatic battery charger with 220V shore
Interior supply
Refrigerator
Stove
Sink
Toilette
Consumer electronics
CD, radio, MP3, Bluetooth
Motor
Mercruiser 260 hp – Engine Type V-8, 5.0 displacement, ALPHA 1; Elica in Steel
OTHER : Free Wifi included, 4G LTE unlimited 
INFO PRICES AND TIME (EUR):
Book this fantastic Boat Cruiser RIO 7.90!
Price for a day (09.00 – 18.00 h) = 2.590,00 Kn  (350 EUR)*
Price for half day (09.00 – 13.00 h /  14.00 – 18.00 h)  = 1.700,00 Kn (230 EUR)*
* Boat rental price depends on the season
The possibility of chartering (renting) without a skipper if You own boat license. If You dont have license, our skipper is obligatory.
 SKIPPER PRICE HALF DAY –  375,00 kn (50 EUR)*
 SKIPPER PRICE FULL DAY –  590,00 kn (80 EUR)*
NOTE:
* Cost of fuel is not included in mentioned prices. The vessel is rented with a full fuel tank and the end user recharges the spent fuel on the return of the vessel at the gas station INA, Zert bb, Opatija and paid directly in the INA office
* The price in EUR (EURO) is of informative character and is collected in kunas – Croatian national currency
* Cost of skipper is not included in boat rental price and it's excluded from any discount
* Boat is available only for daily base rental – no overnights on board
* We do not provide parking space for Your car during the time of the rental