Saver 750 WA

from 500 EUR per day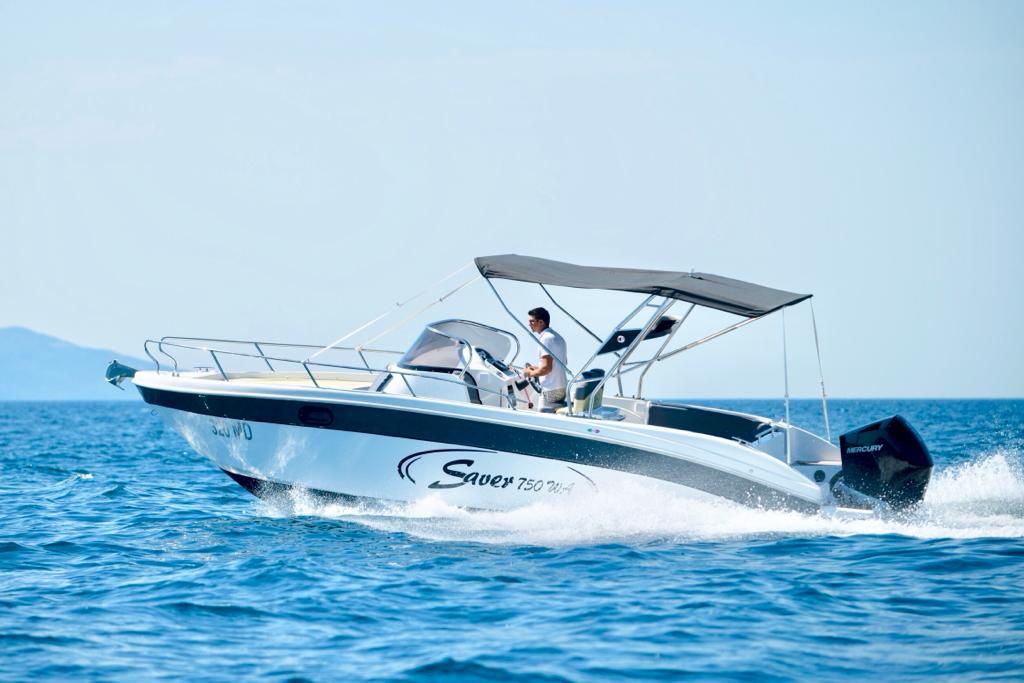 Availability calendar - click on date to book.

8.10 m.

2.55 m.

9 pax.

1500 kg.

270 l.

70 l.
C

35 Mph.

MERCURY VERADO V8 - 250
 SAVER 750 WALKAROUND 
Comfortable day cruiser for the ultimate glimpse and comfort experience.
Saver 750 Walkaround day cruiser is designed with the idea that all 9 passengers can enjoy the daily cruises. This more than 8 meters speedboat has a large sunbathing area where up to four people can sunbathe. Inside the large console there is a double bed and separate electric toilet.
The skipper seat overlaps the front part of the sitting surface that is lifted. There is a fridge inside the skipjack case, lifting the sitting part of the skipjack comes to the tap sink.
On the steern part of the sppedboat is a large bench that sets a table in the middle of the station and it transforms in a perfect place to dine.
There is also a shower on the stern. Lowering the table and setting up an extra pillow creates a large sunbath. The boat Saver 750 WA with two large sunbeds becomes the ideal summer sunbather.
The ideal partner of Savera 750 WA is the powerful Mercury Verado V8 250 hp outboard engine.
Technical data:
Length: 8.10 m
Width: 2.55 m
Crew capacity: 9 persons
Empty boat weight: 1500 kg
Engine: Mercury Verado V8 250 Hp – Outboard
Fuel tank: 270 liters
Water tank: 70 liters
WITH THIS BOAT YOU GET ON BOARD FOR FREE: – ROUTE PLANNER WITH REAL PHOTOS & INFO – FREE WIFI 4G Unlimited – FINANCIAL PROTECTION – Rainy Day Security – GPS Security tracking – see your boat location via phone & much more
INFO PRICES & TIME SLOTS: 
Price for a whole day (09:00 – 18:00 h) = 3.700,00 Kn (500 EUR)*
Price for half day (09:00 – 13:00 h /  14:00 – 18:00 h)  = 2.220,00 Kn (300 EUR)
Skipper is obligatory if the customer/ charterer don't posses skipper license and don't know how to operate & drive the boat!
–  HALF DAY – 520,00 kn (70 EUR)*
–  FULL DAY –  740,00 kn (100 EUR) *
DEPOZIT = 3.700,00 kn (500 EUR)*  – obligatory if the boat is rented without our skipper on board
NOTE:
*Cost of fuel is not included in mentioned prices. The vessel is rented with a full fuel tank and the end user recharges the spent fuel on the return of the vessel at the gas station INA, Zert bb, Opatija and paid directly in the INA office
*Cost of skipper is not included in boat rental price and it's excluded from any discount
* The price in EUR (EURO) is of informative
* Boat is available for daily & overnight rental
* We do not provide parking space for Your car during the time of the rental